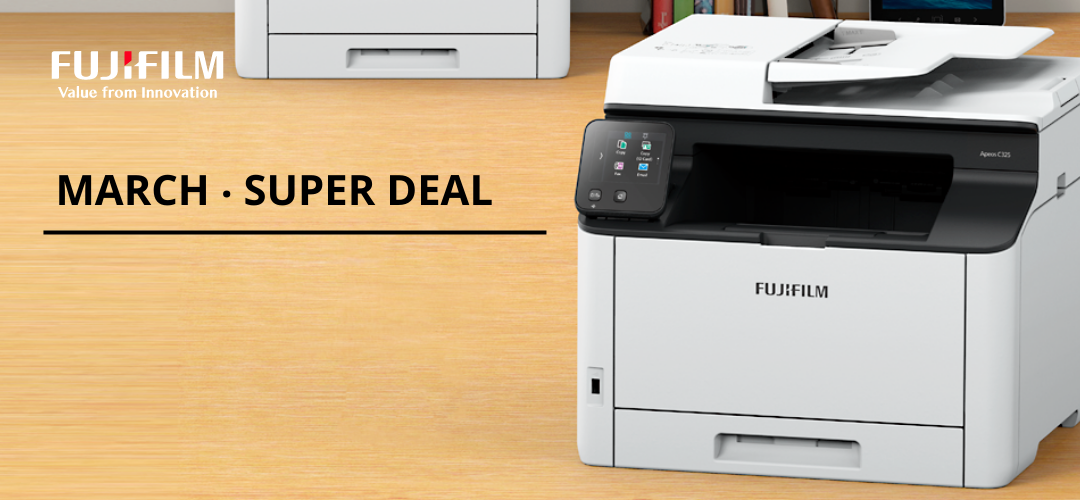 FUJIFILM Business Innovation
Delivering efficiency and productivity to your business.
We use leading-edge, proprietary technologies to provide top-quality products and services that contribute to the advancement of culture, science, technology, and industry, as well as improved health and environmental protection in society. Our overarching aim is to help enhance the quality of life of people worldwide.
Intelligent and powerful A4 monochrome printer supporting your smart workstyle.
ApeosPort-VII P5021 delivers superb printing image quality, high connectivity and productivity, and intuitive user experience with colour touch panel.
Caters to a variety of requirements from workgroup to enterprise customers.
Advanced operability with 5-inch colour touch panel. You can personalize the icons on the screen to make your regular workflow easier and faster.
Whether as a desktop or a console device, the adjustable touch panel lets you easily operate the device.
Comfortable sound and light navigate you to the intuitive user experience.
You can refer to FAQ and user instructions on Help screen when you have questions on how to use.
Colour animation on the touch panel assists you to solve the operation troubles easily.

Even if you cannot solve the trouble by yourself, Remote Assistance helps you. The call center staff remotely operates your touch panel for trouble shooting.

Device management and cost control is easy with ApeosWare Management Suite 2*, which can manage devices and their usages, and provides integrated authentication, print output, and log accounting.

* Software sold separately. Planned to be supported.
Perfect for fast-moving mobile workers who need to print out something while on the move. You can easily print from mobile devices using Print Utility*1, AirPrint, and Mopria Print Service.
When using Print Utility, the printing device is identified just by holing your mobile device*2 over the NFC area on the panel. Easy and simple operation helps busy workers.

*1: Print Utility is free application provided by FUJIFILM Business Innovation.
*2: NFC-enabled device is required.

Prevents paper information leakage with Secure Print and Private Charge Print with IC card authentication*.
With Image Log*, job logs and the image itself can be stored and managed, enabling prompt investigation upon information leakage.
360° security realized with various measures such as communication route encryption, data encryption, access log, and usage restrictions. Reliable partner for your business continuity.
Attention-grabbing print quality with Super EA-Eco toner and LED Printhead, while offering fast printing of 53 ppm at the same time.
High reliability with robust design for 600,000-page machine life.
Tough partner for high-volume printing environment.
Energy saving with Super EA-Eco toner with low fusing temperature.
Flexible caters to your business needs with an optional 550-Sheet Feeder and Cabinet. You can expand the paper feeding capability up to 2350* sheets at maximum.

* When three 550-Sheet Feeders are installed at maximum. Based on 80 gsm paper.
User-friendly colour touch panel
When using Private Charge Print, you can easily select and delete the documents viewing the thumbnails shown on the panel. Convenient for saving time and waste.
Smart & scalable
1. 5-inch colour touch panel:

Intuitive colour touch panel lets you find just what you want at a glance.

2. USB port*:

Use your own USB memory to print directly from the USB.

3. IC card reader*:

You can use Private Charge Print with your IC card.

4. Bypass Tray:

Can print on various paper types such as envelopes and postcards.

5. Standard Tray (550 sheets):

For standard users. Supports various types & sizes of paper.

6. 550-Sheet Feeder*1 (550 sheets):

Paper feeding capacity is 2350*2 sheets at maximum. High scalability for high-volume printing needs.

*1: Optional.
*2: When three 550-Sheet Feeders are installed.

7. Caster*:

For easy installation and moving on the floor.

8. Cabinet*:

Convenient for storing paper and consumables.
Connect with our Sales Specialist
Our Mr. Print team is ready to help you!
Tell us about your needs in the form below, and we will prepare a solution that best suits you and your organization.